317-512-6087 Sales
317-604-1417 Design
• Locally Owned
• All Work done in house
• Affordable
• Honest & Dependable
• We stand behind our workmanship and product
Owners
Darin Schutt and Lee Pruitt
D and L Monuments, Waldron Indiana
CHOOSING HOW TO MEMORIZE YOUR LOVED ONE is an important and often-times difficult decision every memorialist understands well. For many people the number of options and possibilities available in crafting the perfect granite memorial may either seem daunting or, if this is their first experience with memorial, they may not even realize the multitude of color, shape and design available.
At DL Monuments our profession is about art, history, love and stories but most importantly it is about people. People who have experienced losing a loved one deserve professionals who are passionate about their calling. While details of a funeral may be forgotten, a memorial will be left to tell the story of a life lived. Every day we strive to make a difference. Let's tell a story together.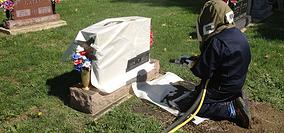 Sand Blasting is the traditional way of creating monuments. Originally hand carved with chisel and hammer we now use compressed air and sand to intricately carve your design. From Added Dates in the cemetery to a full monument we can meet all you monument sand blasting needs.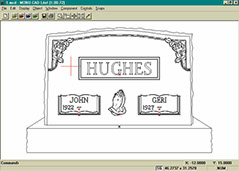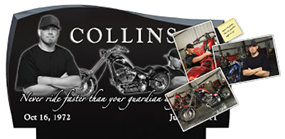 Over 25 years of Photography, Layout and Design experience. We can create a design that your family will be proud of. Utilizing the latest in monument design software we will create a monument design while you are at our location. We can take your ideas and make them a reality.
DL Design Services are included with all our monuments.
Laser Engraving is using a highly focused beam of light to etch away the top surface of a polished black stone. This process leaves a very high detailed image. We can use family photos, hand drawings, even aerial shots of your homestead or farm.
We have a large selection of art and custom scenes are created upon request.
SANDBLASTED SPECIAL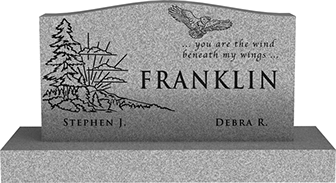 Custom Sandblasted Design
V-Carved Lettering
36 x 6 x 20 Serp Top Tablet
Polished 2 Front and Back
48 x 12 x 6 Base
Polished Top
Setting Included
*Foundation Not Included
Shown as optional polished all sides. Add 250.00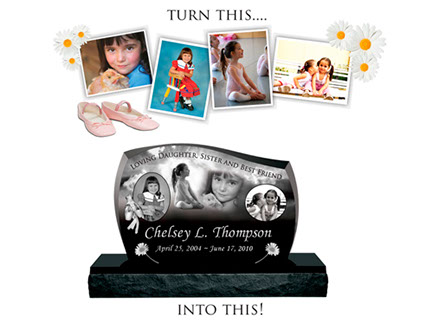 LASER ENGRAVED SPECIAL
Custom Laser Design
V-Carved Lettering
Laser Etched Images
36 x 6 x 24 French Curve Tablet
Polished All Sides
48 x 12 x 6 Base
Polished Top
Setting Included
*Foundation Not Included

Quality Affordable Monuments
As a Shelby County Monument maker we cover all the surrounding counties.
Shelby County
Bartholomew County
Rush County
Decatur County
Johnson County
Hancock County
Don't See Your Location ?
Just Ask
Contact us for a free estimate or appointment.